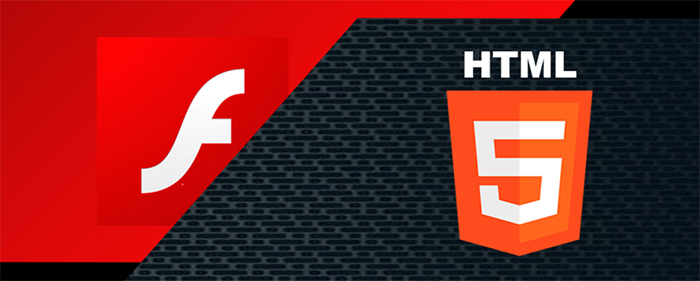 For more than 20 years, Adobe Flash Player was the industry standard to develop interactive content. But, in 2017 Adobe announced the phasing out of this iconic multimedia tool by the end of 2020. eLearning companies and consumers must now prepare themselves for a future wherein other programs and applications will emerge as the new benchmark. For instance, HMTL5 is increasingly being selected as a viable alternative for a wide variety of online content.
The focus of this article is to explore ways to make old Flash based courses accessible on mobile devices and browsers that don't support Flash.
Conversion Approaches
The solution for accessing legacy Flash based courses is to convert them to HTML5. How can this be done?
Off-the-shelf tools:
There are a number of tools that offer quick, affordable migration to HTML5. These tools make Flash based interactive content viewable. But their limitation is that they don't convert it to a responsive design. Off-the-shelf tools are only a 'quick fix' and not a comprehensive solution for these courses.
Rapid conversion:
This approach converts Flash-based courses to responsive HTML5 output. It uses minimal customization and is the most appropriate for courses without complex interactivities.
Re-design and re-build:
This may be the only solution for courses with complex interactivities. Re-designing and re-building requires substantial amount of time and money.
The most suitable of these approaches depends on the design and content of the eLearning course in question and your budget constraints.
Because of these limitations, you need to examine your old Flash based courses and develop a plan accordingly.
Building a Conversion Plan:
We suggest a 3-step plan for converting your legacy courses.
Identify
First, you need to identify the right courses that need to be converted. For this, you need to ask yourself questions such as: Which courses are the most important for your employee training? Which course can be easily converted? This way, you can figure out the right course that needs to be converted.
Diagnose
For each course, you need to check what kind of updates it requires. Does the entire content need major updates Do we have to completely redesign it? This way, a deep diagnosis of the old courses has to be carried out.
Determine the Right Approach
After identifying and diagnosing the courses, you will be be able to choose the most appropriate treatment for your legacy Flash courses.
Conclusion:
Conversion of the e-learning legacy courses is a complex process. But it's the only way to preserve valuable training material that has been developed in Flash .